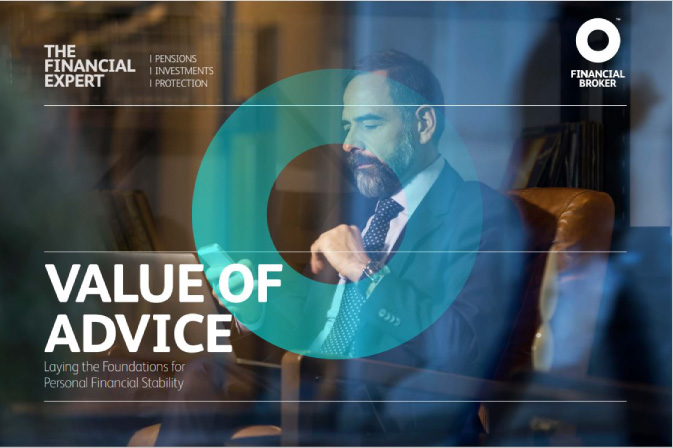 02 Sep

The Value of Financial Planning Advice

The well known investor Mr. Warren Buffett once said 'Price is what you pay, value is what you get'. There is a lot of truth in this and within lies the clues to many a dissatisfied customer when they don't get (value) what they paid for (price) when price and value are not aligned.

Some of the most important decisions we will ever make are based on our financial future. A recent study carried out by Brokers Ireland of which I declare I am a member, clearly illustrates the role of Financial Brokers in helping consumers to keep their personal finances on track and proactively identify financial opportunities and risks as they arise. The research project was conducted as part of a nationwide omnibus survey by iReach Insights in May 2021.

Your future financial health is not based on ad-hoc decisions made at various points during your life.  A decision you might make today may totally conflict with one made a number of years ago.  At different times in our lives, our financial needs can become more complex, our financial commitments can be more demanding and people's time might not always be in large supply.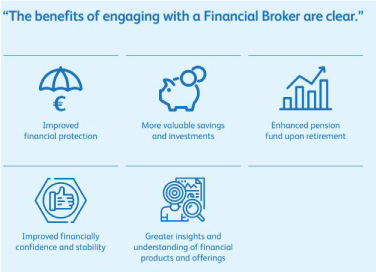 It is essential therefore that a financial plan for the future is structured and takes account of all sorts of possibilities and situations, something that often requires the expertise of a professional.  Having a structured financial plan that is reviewed regularly and flexible enough to deal with changing circumstances is critical.
Let's start with the financial benefit of working with a financial broker.  After all, this is probably one of the key reasons we seek advice.  You may want advice on how you can maximise investments or what level of income is sustainable in retirement.  The good news is that research shows that those who seek financial advice and guidance are in a stronger financial position from the support of their Financial Broker.  In short, this study identifies that financial advice provides an opportunity to grow your wealth and financial wellbeing.
The results of the survey are clear:
Those who have used a Financial Broker
Have 53% more savings and investments than those who don't
Are more than twice as likely to have a pension
Are more financially protected as a result of holding more financial products
Are more financially confident and also feel more confident about their financial future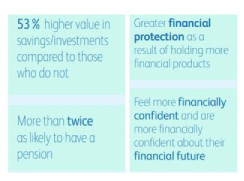 The study shows how much better off those who get advice are compared to those who don't.  Getting practical support from a financial broker can make a real difference to your financial wellbeing and can result in better outcomes for you overall.  This research, carried out in Ireland, found that those who receive financial advice have more savings, are better financially protected, have higher valued pensions and feel more financially confident about their future.
The simple fact is that those who take advice are likely to be richer in retirement with 1 in 3 using financial advice to help with their financial needs.  There is a clear difference in the number and value of products held by advised adults.  These adults are also more financially confident which supports the fact that professional financial advice is an important means of increasing the financial knowledge and wellbeing among adults.
The table below (an extract from the report on survey findings) clearly indicates that the advised group are better protected and provided for, having sought advice to meet their needs and financial circumstances.
Do You Own Any Of The Following?
Life Assurance
Pensions
Mortgage Protection
Critical Illness Cover
Income Protection
Don't Use Financial Advice
Making informed decisions around financial matters directly correlates to improved financial outcomes and this is evident throughout the survey findings.  Having better insight and knowledge into tax entitlements and contributions is also a key consideration and financial incentive.
Based on these research findings, it is evident that those who receive financial advice are more likely to achieve greater personal financial benefit through guidance in pensions, saving/investment, mortgages and protection services by comparison to those who don't receive financial advice.  Working with a Financial Broker ensures a personalised and holistic approach to a client's financial planning needs and objectives.
It means that clients are
Better protected
Have more valuable savings and investments
Have more valuable pensions
Are more financially confident
The value of seeking financial advice is clear.  With more money invested and greater financial security people feel more in control and therefore have greater confidence in their finances both now and in the long term. You can read the full report here.